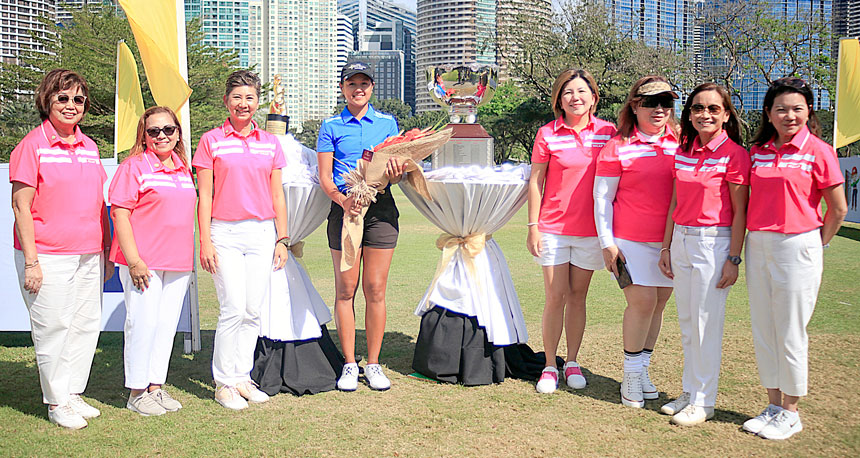 WGAP 2020 Officers
| | |
| --- | --- |
| President | Cielo Fregil |
| Vice-President | Detsy Laurel |
| Secretary | Sarah Medina |
| Tournament Treasurer | Kathy Uy |
| Chairwoman | Katherine Anne Granada |
| Chairwoman – Membership & Handicap | Ting Yupangco |
| Chairwoman – Purchasing & Logistics | Evelyn Alcantara |
| PRO | Jika Dalupan |
| Adviser | Cora Suntay |
Women's Golf in the Philippines
Golf came to the Philippines around a century ago. At first there were just a handful of private courses, available only to a lucky few. But as more and more courses were built the sport became available to almost everyone, yet it remained a male dominated sport. Most lady golfers played for fun, and there were few serious lady amateur competitions.
Dominga Capati
The lone Filipina golfer in the field who captured our nations attention as she competed against some of the region's best lady golfers, mostly Europeans and Americans. She was a laundrywoman who washed away the field, finishing five strokes ahead of her closest competitors.
Dominga went on to dominate Philippine women's golf and inspired a generation of Filipinas to play golf competitively. Upon her death her friends organized a golf tournament in her memory. Held at Wack Wack Golf & Country Club, the tournament was well received by the ladies and a need for more opportunities to play and compete became apparent.
Motivated by these positive signs, a group of accomplished lady golfers banded together and discussed the necessity of establishing an organization to govern ladies' golf. WGAP was born through the efforts and dedication of Edeng Feliciano, Ditas Valles, Charing Villar and Nellie Jhocson.
WGAP Circuit
For the first few years WGAP staged local monthly, team play tournaments among the ladies chapters of the Metro Manila clubs, this grew to become what is now the WGAP Circuit. They also took over the running of the Dominga Capati Memorial Tournament which is now on it's 43rd year. A young golfer at the time, Cora Suntay designed the green and gold WGAP logo that we still use today.
Republic Golf Association of the Philippines (NGAP)
By the mid seventies NGAP recognized the association's dedication to developing the sport, and gave WGAP the responsibility of running The Philippine Ladies Open. This has since become WGAP's premiere tournament and has drawn entries from all over Asia and the Pacific region.
LUZVIMIN Tournament
In 1993, President Gina Tuason conceived and initiated the Luzon, Visayas, and Mindanao tournament (LuzViMin) in an effort to reach out to the South. This brought together lady golfers from across the country and made WGAP a truly National Organization.
In 2000, with the intent of introducing the women to match play Gina Tuason started the WGAP Cup as the culminating event of the WGAP Circuit.
Today WGAP remains committed to the promotion of women's golf
and the development of Filipina golfers.