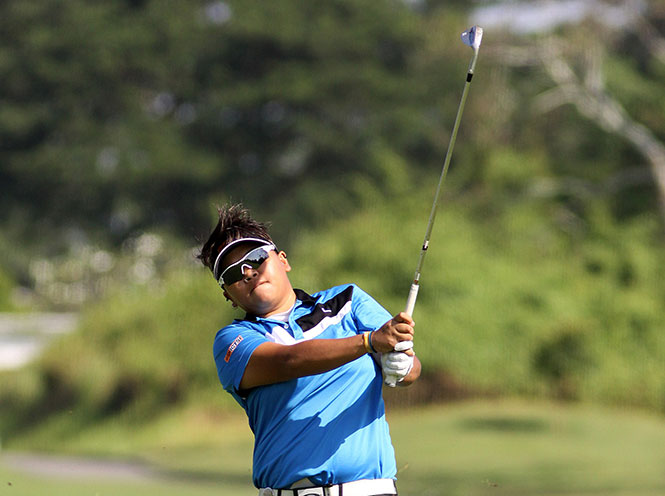 Chihiro Ikeda hopes to cash in on the absence of the other big guns as she firms up her bid for the Order of Merit title in the rich ICTSI Royal Northwoods Ladies Challenge which gets under way tomorrow (Tuesday, Oct. 25) at Royal Northwoods Golf Club in San Rafael, Bulacan.
The P1 million event is actually the richest thus far in the four-year-old circuit sponsored by ICTSI with Ikeda upbeat of her chances for the top P250,000 purse with the likes of Princess Superal and Mia Piccio still in the US vying in the LPGA Q-School.
Superal swept the last two legs of the circuit organized by Pilipinas Golf Tournaments, Inc., actually her first two events as a pro. But with the former US Girls' Open champion out of this week's roster, Ikeda looms as the player to beat in the 54-hole tournament serving as the penultimate leg of the 10-stage tour.
With a breakthrough win at Orchard last June and a number of top five finishes, Ikeda has racked up earnings of P514,121, just P99,109 ahead of Piccio, who is also in the Florida chasing an LPGA Tour card.
Lovelyn Guioguio is in third in the OOM ranking with P317,246 in winnings with a victory this week, coupled with Ikeda's poor finish, could lift the Davaoeno shotmaker to the top of the heap heading to the final leg at Alabang Country Club in December.
The closing stage, however, set Dec. 19-23, will serve as a Taiwan LPGA Tour like in the first two legs at Splendido and Manila Southwoods, with a talent-laden international field seeing action.
Sarah Ababa, winner of the Sherwood leg last year, is in fourth with P308,630 while Jayvie Agojo, out to end a two-year title spell, has piled up P292,615 in earnings.
But Ikeda, Guioguio, Ababa and Agojo also brace for a challenging week with three Thais and one Indonesian joining the hunt for the crown in the event backed by Custom Clubmakers, adidas, KZG, Sharp, Summit Mineral Water, Srixon, Champion, TaylorMade, Ping, Yamaha and Pacsports.
Supakchaya Pattaranakrueang, a regular campaigner with a number of top 10 finishes, heads the foreign challenge along with Jaruporn Palakawongnaayuttawa and Sarauttaya Nga-usawan and Jessica Lydia, a member of the Indonesia national team and a former skipper of the University of Richmond in the NCAA Division I in the US.
Focus will also be on the amateurs, who have three of the last three legs of the circuit, with Korean Hwang Min-jeong out to score a follow-up to her stirring victory over Superal and former OOM winner Cyna Rodriguez at Mt. Malarayat last year.