Bianca Pagdanganan capped three days of near-impeccable play with a three-under 69 yesterday, claiming the Philippine Ladies Open crown via a runaway nine-stroke victory over Thai Atthaya Thithikul at Wack Wack Golf and Country Club's West Course in Mandaluyong.
Five-up on Thitikul after 36 holes, Pagdanganan turned the final round into a virtual victory walk, hitting five birdies against a bogey after 14 holes en route to a 35-34, completing her domination of the elite international field in the event presented by Champion Infinity with a three-day display of brilliant shotmaking.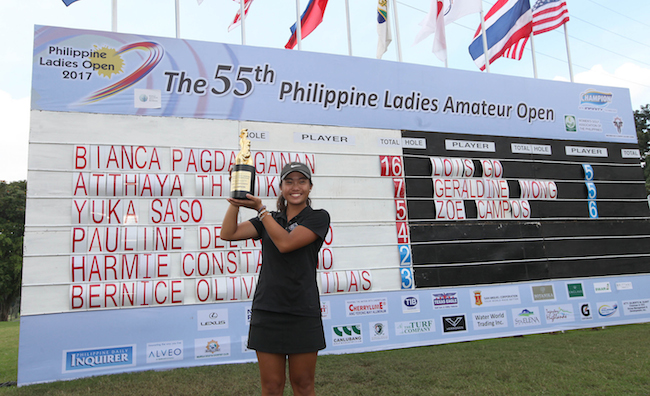 The lead actually stood at 11 with four holes to play but Thitikul hit a birdie on No. 17 and saved a 73 and Pagdangangan holed out with a bogey and still finished with an impressive 16-under 200 card for that nine-stroke romp, the most lopsided win posted in recent years of the annual event that had seen a number of endgame thrillers, including Princess Superal's one-stroke escape over Pauline Del Rosario and Yuka Saso at Midlands last year.
Flubbed birdie putts in the early going held back Thitikul's charge and the Thai teen star bowed out with a double-bogey mishap on No. 10. She wound up with a 73 and a 209 in the event organized and conducted by Women's Golf Association of the Philippines.
So impressive was the 19-year-old Pagdanganan's performance that she dropped just two bogeys against 19 birdies in three days, a stunning rebound from a 28-over card she posted in a joint ninth place finish at the Philippine Amateur Golf Championship last week at Riviera where she made seven double bogeys and 22 bogeys against eight birdies.
"Coming into this tournament, I reminded myself to keep playing and get better everyday and not to think about the past as advised by my coach and dad, because it had nothing to do with the Open," said the Gonzaga University sophomore.
"There are other tournaments so keep your focus and think of it shot by shot. It worked out well," she added.
It did as Pagdanganan broke out of the starting gate with a 66 to wrest a two-stroke lead over Del Rosario and Saso then hit a bogey-free 65 in the second to pull away by five over Thitikul.
But while Pagdanganan showed her resiliency to join the elite roster of PLO winners, including five-time champion and two-time LPGA Tour winner Jennifer Rosales, Saso failed to sustain the form that netted her a similar nine-shot win at PAGC, settling for third at five-under 211 on a closing 69 while Del Rosario rebounded from a two-over card with two birdies in the last five holes, saving a 72 but dropping to fourth at 212.
The rest, including two local aces who won tournaments in the local pro circuit last year, finished way behind Pagdanganan with Harmie Constantino, who reigned at LPGT Mt. Malarayat, ending up fifth at 218 after a 71, and Bernice Olvarez Ilas, who topped the Beverly Place stop, carding a 73 for sixth at 219.
Malaysian Geraldine Wong shot a 73 and tied Cebu's Lois Kaye Go, who skied to a 78, at seventh with 221 while Zoe Campos of the US placed ninth with a 222 after a 74 and Jacqueline Young of Singapore limped with a 79 for 10th at 226.
Mikha Fortuna carded a 74 and tied Malaysians Qistina Azhar (75) and Liyana Durisic (77) and Thai Tunrada Piddon (78) at 228, Aloysa Atienza, also of Singapore, pooled a 230 after a 77, club bet Felicia Medalla assembled a 231 after a 74, and Diana Araneta (77) and Annyka Cayabyab (79) wound up tied at 232.
Noraishah Omar carded an 80 and nipped sister Norshahira by two to clinch the Class A crown at 238 while Norshahira shot a 78 for a 240 and nipped Nur Binti Saad, who had a 77, in the countback to complete the Malaysians' sweep.
Ma. Consuelo Conti rallied from third to snare the Class B crown with a 292 after a 92, foiling Gabrielle Tronco, who made a 99 for a 294, while erstwhile leader Terry Fasol limped with a 102 and slid to third at 295.
Other backers of the event were Lexus, Metro Pacific, Britanny, Eva Air, San Miguel, Inquirer, Cherrylume, Alveo, Manila Golf, G&W Clubshares, Alabang Ladies Golf Chapter, Canlubang Golf Club, Forest Hills Golf Club, Sta. Elena Golf Club, Tagaytay Higlands, Gatorade, Ladies Philippine Golf Tour, Vermogen, Atty. Gilberto Duavit and Water World Trading Inc.