By Jika Dalupan
WGAP Corner (Inquirer Golf Magazine)
Since the pandemic started last year, we have witnessed the Filipino Bayanihan spirit in all forms – from big corporations donating in the hundreds of millions to the sidewalk community pantries run by ordinary citizens. Those who had the capacity to give kept on giving, to ensure that the less fortunate will survive.
One of the many sectors severely affected by the lockdowns is sports and leisure. Golf courses were not allowed to operate, resulting to the lost opportunity to earn particularly for the caddies. This did not go unnoticed by the clubs' lady golfers and they immediately mobilized their respective ladies' chapters to help in any way they can. Though these ladies certainly miss the fun and camaraderie of the WGAP tournament circuit, the satisfaction of looking after the welfare of our everyday golf course heroes is unparalleled.
The remarkable results, as seen here, are proof that there are enough blessings to go around. All it needs are sincere and generous hearts, together with friends who share the same zeal to help.
More power to our WGAP ladies! May your tribe increase.
Alabang
Fund raising to give cash assistance for 236 caddies
Annual gift giving and distribution of Christmas baskets to 277 caddies and 17 golf operations staff
Fund raising and pooling of funds with other ACC golf groups for cash assistance to 277 caddies
Fund raising and financial assistance for the hospital bills of a caddie with Covid-19
Canlubang
Distribution of grocery items (assorted canned goods, 5 kilos Rice, biscuits, coffee, soap, etc.) for 250 caddies
Cash donations amounting to at least Php 2,500. per member
Villamor Air Base Golf Club
Donation Drive for 443 umbrella girls, tee boys, PRO, Pulot Boy, and Ditch Boy
Christmas Gift-giving for 400 Caddies
Ladies Day Golf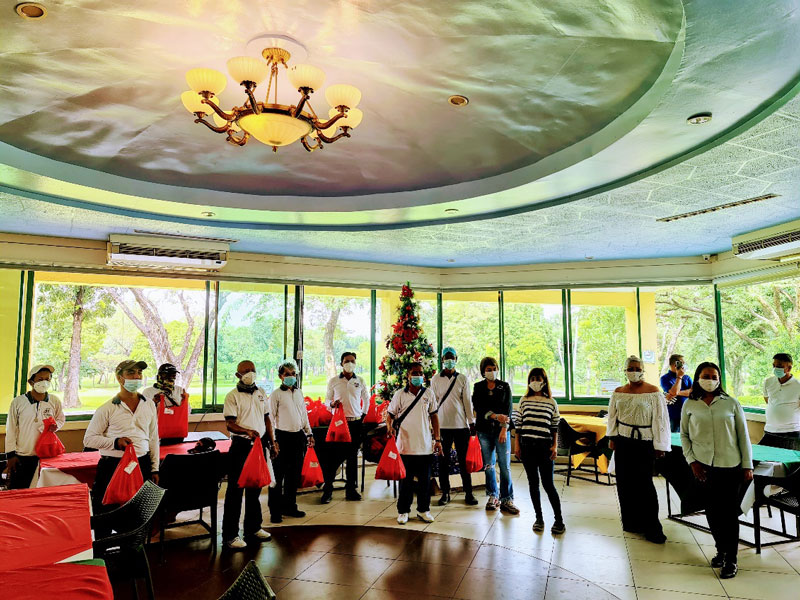 Eagle Ridge
Fundraising and distribution of cash, rice, and canned goods to over 400 caddies.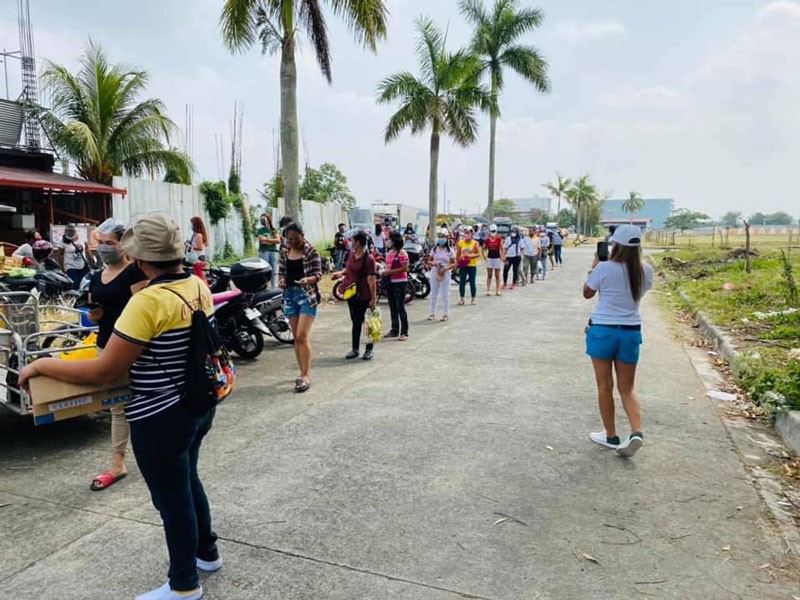 Forest Hills
Fund Raising for 250 caddies
Contribution to the club's Health and Safety program. First-Aid Kits were strategically set up in tee houses, complete with oxygen and stretcher. Since locker rooms were closed, outdoor changing rooms for men and women were set up in the parking lot.  
Christmas cash gifts to caddies and club personnel
Cash support for 218 caddies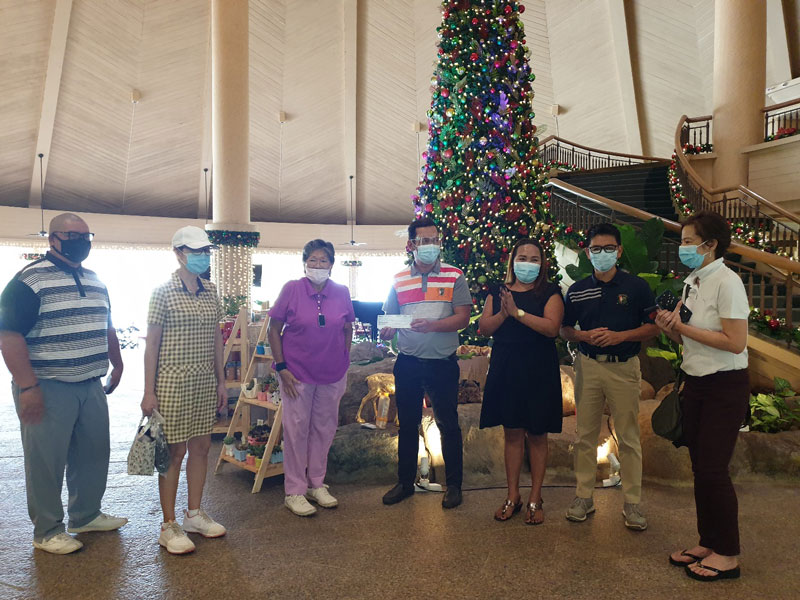 Sta. Elena
Cash donation drive – all collections supplemented the financial aid which was being given by the club. Through these efforts and the overwhelming support from members, the caddies were able to receive much needed money over a month and a half.
Annual caddy welfare projects in the form of rice-giving
Christmas Grocery Bag giveaway
Fund raising for the caddies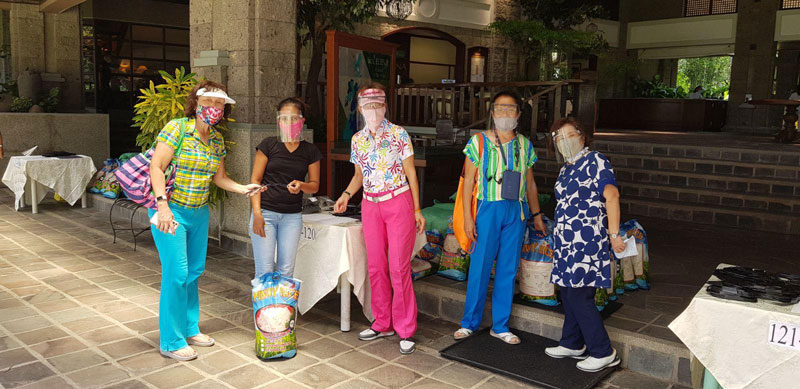 Tagaytay
Distribution of cash, canned goods, rubber slippers, clothes, coffee, and other grocery items for close to 200 caddies, marshals, and office staff of both Highlands and Midlands courses.
Continuous support for golf club administration initiatives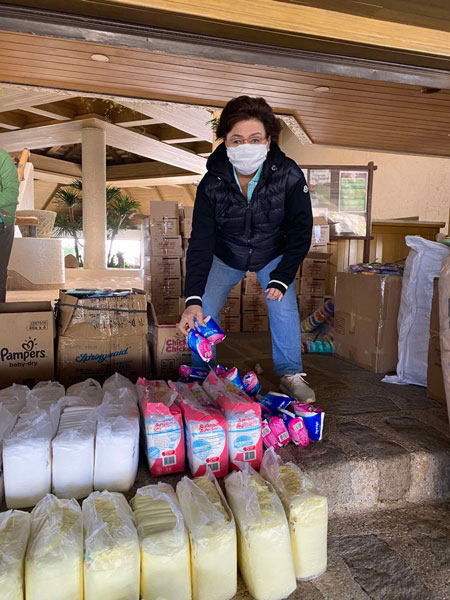 Wack Wack
122 no-work, no-pay staff, mostly cleaners and food service personnel, and ladies locker attendants and housekeeping staff, received financial assistance
29 children and grandchildren of our caddies who applied for the 1st Wack Wack Ladies Cup Caddie Educational Assistance Program received Samsung Tablets in time for the opening of online classes
Approximately 343 Caddies, Teeboys/Teegirls, Caddie Trainees and Umbrella Girls received Christmas Aguinaldo and Christmas Gift Pack
All Wack Wack employees, Security Guards, and Banquet Staff also received Christmas Aguinaldo and Christmas Gift Packs
41 lucky students — children and grandchildren of various members of Wack Wack community (from caddies to security guards, office staff to groundsmen) — received Samsung Tablets
All of these activities were made possible by the Ladies Chapter monthly dues, donations of members to the Caddie Christmas Fund, proceeds from the 1st Wack Wack Ladies Cup, and generous donors from the Wack Wack Golf community.