By Jika Dalupan
Inquirer Golf Magazine
In this day and age of women empowerment, being a lady boss is not unheard of. The Philippines, in fact, is one of the highest ranked countries in gender equality. But what does being a lady boss really mean?
Let's hear it from two women who carry huge responsibilities in running some of the most reputable golf courses in the country – Mary Grace Estuesta and Joanne Crisostomo-Reyes.
---
Mary Grace Estuesta
Assistant General Manager / Golf Director
Sta. Elena Golf & Country Club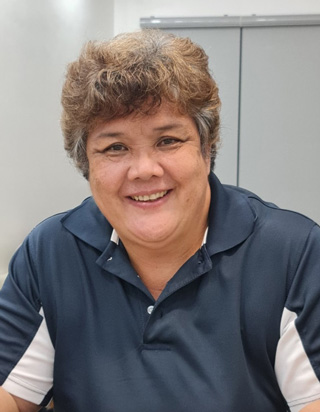 1. What made you interested in golf?
That's a 40-year old question for me! I think the question for me is why I still love golf. Golf has shaped my life and brought me to where I am now. I will always be thankful to my dad that he introduced me and my brother to the game of golf and to my mom, who made sure that we enjoyed our experience of golf (even if she didn't play golf herself).
Jungolf gave me friends who are still my friends up to this time. Amateur, college and professional golf tournaments have taught me how to face challenges, deal with different characters and appreciate different experiences that come my way. Golf is a masterclass – it has since become my classroom.
2. How easy or difficult is it being an Assistant General Manager / Golf Director of Sta. Elena? How did you become one?
Nothing at work is easy nor difficult. But in this kind of operation, it is team work that makes work easier — having a team with the same vision but different kinds of perspective and ideas works. Our president, Sir Rico Tantoco and our Board of Directors guide us too, and it's a privilege for us to learn from them.
When one becomes a manager, you'd think it would be you instructing and teaching but most of the time, it's about learning. I learned so much from the different department heads, the staff, the caddies… we all put our ideas together and see what works for the members and for all.
How did I become one?? Ask Jong Arcano! (laughs) A good friend recommended me to the management of Sta. Elena in 2006. To be honest, I was not even a choice as I didn't have experience in club management, but I believe my experience of being a golfer helped a lot. I am able to explain to my staff how a golfer would feel if you did that… or say that… and every day since then became a source of golf management lessons for me.
3. What's your most memorable experience being a Golf Director?
Other than the COVID 19 lockdown which everyone experienced, maybe the most memorable experience I had as an AGM / Golf Director was when Taal Volcano erupted, and the golf course was covered with ash. When you are faced with that problem for the first time and having no experience on what to do and no idea of what will happen next, you wrack your brain trying to look for an answer…and only to find out that the answer you have is just in front of you.
The team work and the bayanihan of our staff at that time was amazing and can never be forgotten! All the staff – managers, golf course and clubhouse maintenance, caddies, staff from clinic, housekeeping, accounting, kitchen, waiters, admin, IT, purchasing, warehouse and HR – everyone were in the golf course cleaning for 8 days! And for most, it was the first time for them to be in the golf course.
It was such a touching experience…when you know that they could have been fixing their houses, but they came to work to help so we can go back to normal operations.
4. Are there any biases against female Golf Directors? If there are, how do you deal with it?
I have not felt it personally. Or if there were, maybe it didn't bother me or I didn't even notice!
5. Any message of encouragement for the women golfers and those thinking of taking up the sport?
This advice is not for women only, it's for all. If you don't practice, don't expect a good score… and so you don't have the right to get mad at yourself on the golf course or to your caddie. Now if you practice and you don't get better, just enjoy and have fun… it will come! And if everything goes wrong… always, always go back to basics. I believe that 50% of a bad shot is even before you swing and hit the ball.
Finally, ask yourself this question when you are about to give up: What if I don't give up? We always know what happens when you give up.. but what if you don't?
Lady Boss Facts on Mary Grace:
Three-time Champion, Philippine Ladies Amateur Open
Four-time gold medalist, South East Asian Games ( 2 individual and 2 team)
Bronze medalist, Asian Games (team)
Played the Ladies European Tour (best at 2nd place and best in order of merit at 29th place)
Played at the British Womens Open and Evian Ladies Masters
Full golf scholarship at Brigham Young University, Utah
---
Joanne Crisostomo-Reyes
General Manager
Negros Occidental Golf & Country Club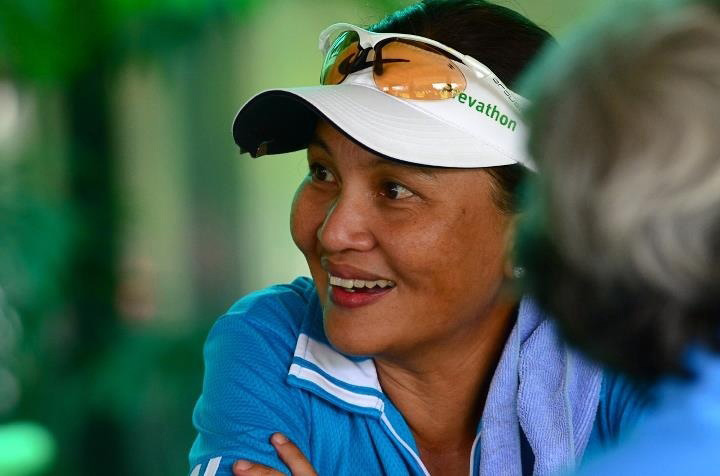 1. What made you interested in golf?
I started playing golf during my early teens in the late 70's). My dad was an avid golfer and I started by going with him to the golf clubs. I started hitting a few balls, getting lessons at the range and joining jungolf tournaments. I love seeing how far the ball would go and really enjoyed the outdoors, the walking, seeing different courses and meeting new friends. Wack-Wack was like a second home to me. During summer break, I would be there early, hit a few balls at the range, play 36 holes and go home by dinner. I played all through my teens and stopped only when I started college.
2. How easy or difficult is it being a Golf GM? How did you become one?
I have been the GM of Negros Occidental Golf & Country Club / Marapara since June 2011. The Board of Directors was looking for a full time manager. One of the officers mentioned my name. They asked if I was interested, I said I would give it a try and from then have been with the club ever since, taking care of our club members and guests. From the beginning, I knew this job wouldn't be easy. Anticipating the responsibility of having to deal with all kinds of people and taking into account the mix of personalities, I wouldn't call this job a walk in the park. One cannot please everyone and no matter what you do, there will always be difference of opinions. I try to do the best I can in my work. What I like about my job is that no matter how hard it gets, I am doing it for a place I love, and for friends I care for. The golf club is almost like a 2nd home to our members. Making sure all is well for all members, guests and employees makes all the work worth it.
3. What's your most memorable experience being a Golf GM?
I have a lot of memorable experiences being GM in NOGCC. Looking back, top of mind would be the Pal Men & Seniors Interclub Tournaments held here in Bacolod. The challenge of having to make sure everything was in order for all the participants, coordinating and managing all our employees and caddies, making sure they are at their best from start to finish, seeing everything come together and seeing the pride in their faces at what the club has accomplished — those are the times I will never forget.
4. Are there any biases against female Golf General Managers? If there are, how do you deal with it?
I don't think I have encountered any bias because of my gender. I believe being a golfer and being exposed to a golf club early on helps a lot. When I started working at NOGCC there were certain standards I aimed for, I tried and worked hard to set the tone for all working at the club, I was true to each one and I was also blessed to have Board of Directors and members who were supportive. There are bad and hard days of course but I guess if you are sincere in your efforts and clear with your goals, all ends well.
5. Any message of encouragement for the women golfers and those thinking of taking up the sport?
For women who are thinking of taking up golf, try it, you either love it or hate it. Once you love it, you open up your life to meeting a lot of people, enjoying the great outdoors, challenges in the game and learning to deal with so plenty things not only in the game but in life. I have a quote about golf that I really like, it's what I like to keep telling myself — "It takes balls to play golf". Like in life, you just keep doing your best, you just don't give up.
Lady Boss Facts on Joanne:
Vice-President and Board Director, Negros Occidental Jungolf Foundation, Inc.
Corporate executive and entrepreneur for at least 20 years
Graduated from Assumption College (Makati) with a degree in BS Marketing
Mother of 3 children
---
There you have it! Hearing from Mary Grace and Joanne, being a lady boss means working hard and loving what you do. It is not about accomplishing for one's self but about collaborating with others for collective success. And just like in life and in golf, being a lady boss means doing your best and not giving up.